Plant-Based Food Movement with Taymer Mason. Moringa-based spices can add nutritional value to food, especially protein with no waste.
Here are the ideological underpinnings of Taymer Mason's revolutionary food movement:
There is no need to waste
According to the Food and Agriculture Organization of the United Nations, approximately 15% of food available in the Latin America and Caribbean region is lost or wasted. Twenty-eight percent of this waste occurs at the consumer level, often due to ignorance.
"I want to create value in things that many do not see value in," says Mason, as she gushes about molasses and over ripe breadfruit, two foods that Caribbean people frequently throw away.
"Breadfruit is a superfood. It is very high in vitamin C," she explains. "I have created yoghurt and pasta out of it at a point in its development when others would have thrown it away. I have created cakes and breads from it. I have created facemasks out of molasses. I have made molasses-based syrups that have rivaled balsamics."
Vegan food can taste and feel just like "the real thing"
"People are not looking for new, they are looking for comfort— you need to give them what they are accustomed to," says Mason, who is a trained food scientist and enjoys replicating tastes of animal products with plant-based foods. "I want to make people comfortable with the healthy lifestyle transitions that they are making."
"Soursop, for example, is flaky and like a blank canvas from a flavour perspective," explains Mason. "In Guyana they used to use soursop as a substitute for fish when the rivers were poisoned, and it tastes just like the real thing when seasoned with nori."
Beachside "fish" tacos is a soursop plant based fish alternative. The recipe can be found in Taymer Mason's cookbook, Caribbean VeganMatthew Benson
"Japanese people have come to my Caribbean Island Sushi demonstration. My 'eel sauce' is made of Jamaican ackee with a tamarind base and tastes just like the real thing. My walnut meatballs have a bit of an Italian feel. My vegan cheese is infused with fermented noni juice and it smells and tastes just like blue cheese and has all of the nutrients."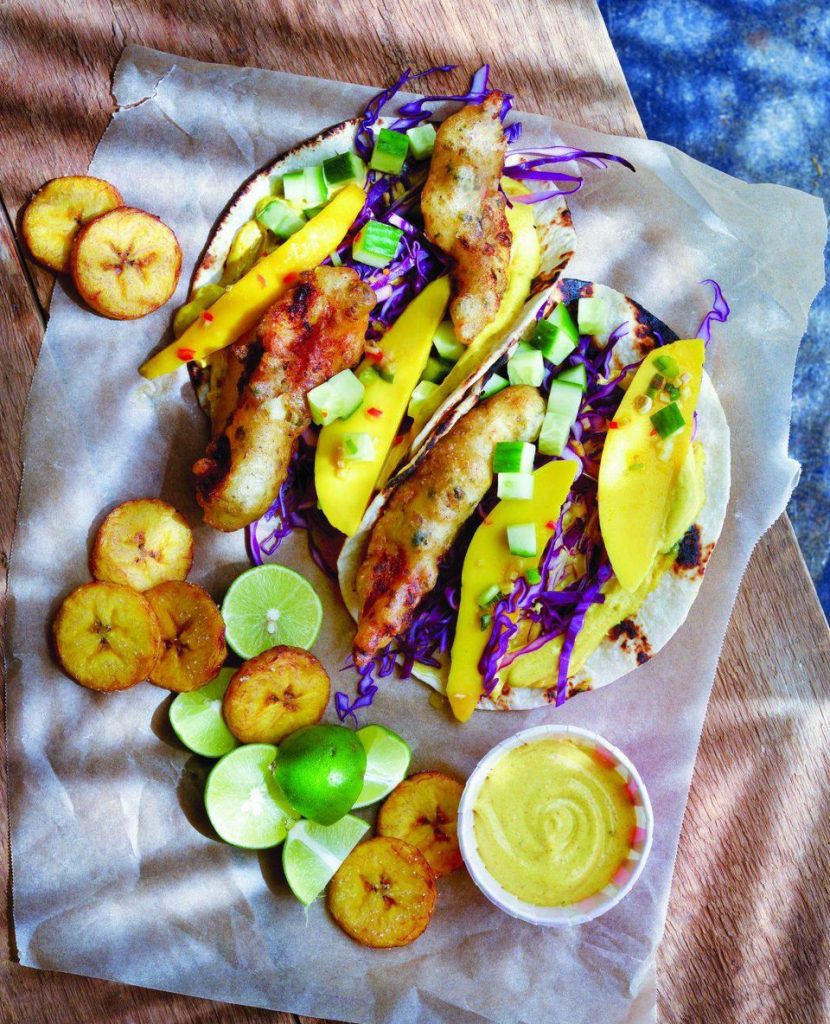 Plant-based foods are highly nutritious
"Superfoods have high doses of vitamins and minerals and can help us to live a longer, healthier life," explains Mason, as she describes a current project, with a company in the United Kingdom, developing a spice that adds nutrition to food.
"Many superfoods are indigenous to the Caribbean, including seamoss, coconuts, breadfruit, beans, cassava and moringa. Moringa-based spices can add nutritional value to food, especially protein," explains Mason.
Other highly nutritious plant-based foods that grow in the Caribbean include seeds, legumes, nuts and a variety of fruits and vegetables. "You can eat these raw to get even more nutrition out of them," says Mason.
Climate resilient eating is possible in the Caribbean
Mason believes that meat substitution and domestic gardening is the key to climate resilience.
"There is land here— you don't need a big set of land," says Mason. "When I came back to Barbados, I started my own biodynamic garden so I could be as self-sufficient as possible. So many Caribbean foods don't even need maintenance and they are totally climate resilient. Plants like moringa nopales barely need water. We have the right climate for a lot of delicious foods, but people tend to only focus on traditional ones."
We can "solve" the problem of world hunger
"I am developing a product that can be easily replicated that can help with world hunger issues," says Mason. "It has a long shelf life with no preservatives. This will help with food security."
Mason's true root meat is made out of cassava, moringa and other root vegetables from the Caribbean. It is high in protein and dense in nutrients and, according to Mason, "it can be replicated in areas with hunger — to fight hunger."
Mason believes that the Caribbean is not creative enough when it comes to food production. She scoffs at the mundane canning and exportation of Jamaican ackee, providing a colorful contrast to one of her favorite dishes— a flavorful ackee bisque "with a breadfruit chip on top."
A Fresh Perspective
Caribbean food is best known for its stews, jerk dishes and curries, all centered around meat and fish. With meat consumption projected to rise to 76.6 kilograms per capita per year by 2030, Latin America and the Caribbean is one of the largest consuming regions of animal products in the world.
Studies have linked overindulgence in animal products with stroke, heart disease and some cancers. The health of the environment is also negatively impacted. Livestock agriculture leads to excessive water use, overuse of land/ deforestation, toxic runoff and pollution and because of the methane emitted by cattle and sheep, red meat production is a major contributor to global warming. Given the negative implications, Caribbean people are desperately in need of a lifestyle change.
Original post from forbes.com
OrganicAsap.com focuses on organic health.